Depending on the material properties of the ceiling or a desired increase in the load limit of the ceiling connection, our fixing set is highly recommended.
Special screws, which are included in this set, are required for fastening to concrete ceilings.
The set is very solid and offers increased safety, not least because it is fastened to the ceiling with four screws, which minimises the risk of tearing out, but also because the material thickness of 10 mm is higher than that of commonly available fastening sets.
The suspension is designed so that it can be rotated 360°. This also makes it possible to perfectly align the love swing, which is very helpful when using the "Private Euphoria" model as a relaxing hanging chair or when using the "Bahamian Thrill" model, for example.
IMORTANT WARNING – PLEASE READ
Although this ceiling mount can support a large weight and withstand a strong vertical pull, it is not suitable for wide swinging movements.
The lateral forces acting on the ceiling attachment due to large lateral swinging movements can cause the rotating eyebolt to break during "real rocking" (in Swiss German "Gireitzle").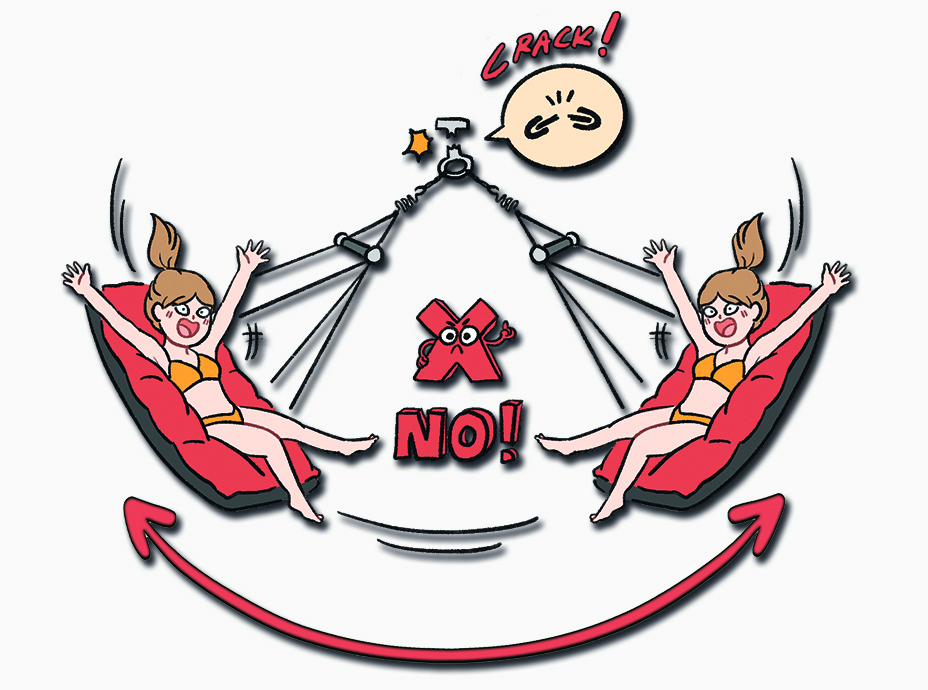 With this ceiling attachment, therefore, in connection with a love swing, the focus must be on "love" and not "swing". But do not worry, the love game can still be indulged without restraint – of course, all movements of the swing are possible within the scope of a purposeful use of the sex swing with this ceiling mount.
However, if you want to use a sex swing (perhaps not entirely wrongly) for actual swinging too, you need to use a ceiling attachment without moving parts.
AND FINALLY SOME FUN
This one is so gorgeous that we just have to mention it here too: see here a funny love swing Fail and still some words to the suspension: