GENERAL
Your products seem very expensive. Why can't you make them cheaper?
Some of the basic prerequisites for low-priced products:
Mass production with associated low costs and highly optimized and automated processes
The claim to throw a product anonymously onto the market as a mass product and thus deprive it of its individual magic
The use of as cheap as possible materials and components
LONESOME DRAGON makes a point of not doing any of this.
Indeed, we could be much cheaper, maybe even while maintaining the same quality, if we had our "Private Euphoria", for example, fully manufactured and packaged in bulk the Far East (ideally using different hubs in different regions of the continent). This would mean our products could be delivered to customers by simply "box moving" them through an online shop. To do this, all we'd need would be an internet connection in a sunny country somewhere and we could retire to lead a life of leisure…
However, this isn't what LONESOME DRAGON is about. For us, LONESOME DRAGON is our passion. We pour our heart and soul into our brand, living and breathing it. We enjoy your visits in our showrooms (preferably over a coffee, beer or glass of bubbly) and like to get to know you, our customers. We are still putting our own hands on everything, wrap and box every single item, take it to the post office and are really happy when we know it's finally reached you as its proud new owner.
We would like to preserve this path as long as possible, where passion instead of cold numbers and accountants drive our business – even if this means that we don't get rich (yet) as quickly 🙂
Last but not least, we all know what a single romantic dinner costs – at least here in Switzerland. Not to mention if you enjoy more than one course and maybe even some wine.
By comparison, the pleasure of your "Private Euphoria" is fortunately not only unique. It's built to stand the test of time and will last long into the future. So if you count down to the single hour of pleasure it is really an absolute bargain 🙂
SHIPPING
ATTENTION: Orders from EU countries with company addresses / EORI number
Important: if you want to have your order delivered to the address of a company, you need your EORI number in most EU (European Union) countries.
The EORI (Economic Operators' Registration and Identification) number is part of a system implemented by the European Union for the identification and registration of companies and individuals in the customs area. It serves as an identification number in all customs procedures (e.g. for orders from abroad).

Unfortunately, many people still don't seem to know about this and we have therefore already had several cases where there were major delays at customs in the recipient country because the customer as a company did not have an EORI number.

Solution 1: if you are in the EU and want to ship to a company address, please enter your EORI number when ordering and we will send it with the shipment.

Solution 2: have the shipment delivered to your name (in the first place!) and c/o company name and address. This will indicate that it is a private purchase and your authorities will not ask for an EORI number.

Solution 3: have the shipment delivered to your home address.

Important: this is only about the shipping address, the billing address can always be your company regardless of the shipping address.

Can I come pick up my sex swing at your place?
Yes, of course. We are looking forward to your visit, but please contact us in advance so that we can reserve the model you want (or you can order it right here in our shop) and we will be there for you.
How do you ship?
We ship by standard with the Swiss Post.
We can also send you your love swing with a courier of your choice (e.g. DHL, TNT etc.), but please send us a short message because this is not provided for in the shop system.
Where do you ship to?
We will do everything in our power to ensure that you get your love swing all over the world, whether to the Tyrol mountains, to outer Mongolia or the Fiji Islands!

We are just a small family-owned Swiss company, but we're incredibly proud that our swings do make people happy around the world. See, where our swings already can be found (only one pin per country, region or state where our swings found new homes):
Do you ship discreetly?
Absolutely. In addition to the product packaging, your love swing will be sent to you in a neutral cardboard box as an outer packaging. The cardboard only shows the innocent little dragon, but no texts like "LONESOME DRAGON".
How much is the shipping?
We dispatch with the Swiss Post and charge only the effective postage costs, packing and other goes on our cap.
The shipping costs are displayed in the shopping cart depending on the country (no worries, even before a possible registration process).
Please be aware that in your country there may be additional costs due to local import taxes and/or customs clearance costs over which we have no control and which we cannot influence.

Are there additional costs to pay in my country such as customs duties etc.?
Since we always ship with complete shipping documents, customs tariff numbers and declarations of origin, etc., there are no problems with customs, but in many countries purchases from abroad are regarded and taxed as imports.
We ship all over the world and are not familiar with the laws of every country and have no influence over them. To be on the safe side, you need to check with your local authority.
As far as other European countries are concerned, we think that, due to the customs tariff number with which we send our "Private Euphoria" and the bilateral trade agreement, no duty should be levied on it. But it is very likely that you will still have to pay your country's local VAT, which will be collected by the post office as the state collection agency. A (small) processing fee will probably also apply.
We think it is really unfair and highly regrettable (and we also get extremely annoyed every time we order something from abroad and have to pay extra), but we adhere to the local legislation or the tax laws of the various countries to which we ship, and are powerless against them.
Nevertheless, with this product, it is worth investing, because luckily the pleasure with the "Private Euphoria" is not just a one-off experience. It is so robust that it will last a long, long time – and if you take into account the many hours of pleasure that it will give you, it is still an absolute bargain.
Help, my shipment has been stuck in customs for a while now
Since we always ship with complete shipping documents, electronic shipment declaration, correct value of goods and customs tariff numbers etc., there are no delays from our side in the processing by the customs office of your country.

Nevertheless, due to various reasons (staff shortages or failures, peaks in shipment volumes, system problems, etc.), there may sometimes be longer processing times in your country's customs clearance process. Unfortunately, we have no possibility to influence this in any way or to speed up the processes of the authorities in your country.

We ship with Swiss Post, which in turn has your package transported, cleared and delivered by its partners in your country (e.g. DHL in Germany, Parcelforce in the UK, La Poste in France, USPS in USA etc.). We ourselves are not in direct contact with the postal service provider or the authorities in your country, so it is not possible for us to get details about the reasons for possible longer processing times in your country.

We ourselves can only see what you see with your tracking number. Also we do not get any further information about reasons of slow processing times when asking your postal service provider or the authorities in your country. Your chances are higher if you, as the recipient, contact the postal service provider in your country yourself.

The only thing we can do is to raise an official "inquiry request" in written form to the Swiss Post Office if after more than about one month of standstill it could be suspected that your shipment has been lost (which has never happened in Europe). This procedure is very time-consuming, however, because the Swiss Post must first forward such inquiries to the postal service provider in your country, who in turn must initiate the inquiry process.

Although delays are annoying, you can be sure that you will get your swing in any case, because we only ship registered and with insured value (against loss and also against damage).
WARRANTY, REPAIR & SPARE PARTS
Replacement and repair of parts
Your Labrador chewed up that nice pillow? The shiny balls of the trapeze bar are hopelessly scratched because your nephew tried to use the trapeze bar as a laser sword? The spring is a bit worn out when all five children of your sister played "Moonbounce" on the love swing?
No problem – we are also there for you after the purchase and can repair or replace just about any part of the LONESOME DRAGON love swing program.
Please contact us in any case before you send something back. In this way you can help to avoid misdirected parcels, broken parcels etc. and unnecessary waiting times for yourself – thank you!
Warranty
For possible damages to our products which occur during normal use and are due to defects in material or workmanship, you are entitled to repair or replacement for a period of 5 years. Excluded from this are possible normal wear and tear or damage caused by improper use or commercial use.
Returns
Please do not return without prior consultation. If you want to send something back, please contact us in advance in order to avoid misdirected returns etc. and unnecessary waiting times for you. We cannot accept any liability for returns that have not been agreed. Thank you!
SHOPPING, RETURNS & EXCHANGE
What payment options are there?
For shipping
Pay as follows if you order online and want to receive your love swing by mail:
when ordering: with the usual credit cards as well as with PayPal
after order: with bank transfer / wire transfer (prepayment)
For local pick-up
If you would like to receive your swing yourself right away and come by, the following payment options are open to you in our showroom:
Cash payment
EC card
TWINT (Swiss mobile payments)
common credit cards
You can of course also order directly in our online shop, pay there via the checkout process and then simply pick up the swing here in the showroom.
What is the price in my currency (e.g. in JPY)?
The prices in the webshop are available in CHF, EUR, GBP and USD. It will be charged to the buyer in the respective local currency of the buyer (e.g. JPY) when paying by credit card and PayPal. The conversion is done by the credit card provider or PayPal.
If you want to know now how much the amount is in your currency, you can calculate it here at the current daily exchange rate (below is the example USD to JPY, but you can change the currency as needed):
Can I pay in a currency other than CHF, EUR, GBP or USD?
If you pay by credit card or PayPal, your card provider or PayPal will automatically convert the amount into your currency and then charge you in your currency.
Returns and exchange
Since our products are hygienic articles and every customer wants to be sure that he only gets "untouched" articles, a return or an exchange is unfortunately not possible.
But since we put all our heart and soul into our love swings and it is very important to us to only have satisfied customers, we may also find a solution for a possible problem – please simply contact us in such a case.
USAGE OF YOUR SEX SWING
How much space do you need for your "Private Euphoria"?
How much space is a question of personal preference. Some people feel cramped sooner than others. It certainly depends on how claustrophobic you are and whether you like to have some space to swing.
However, we would suggest that the minimum space required for the "Private Euphoria" should be 2 meters in the "direction of travel" and approximately 1.40 meters across. With less space, one may feel cramped because, depending on the position, the feet may also like to have a little bit more freedom of movement: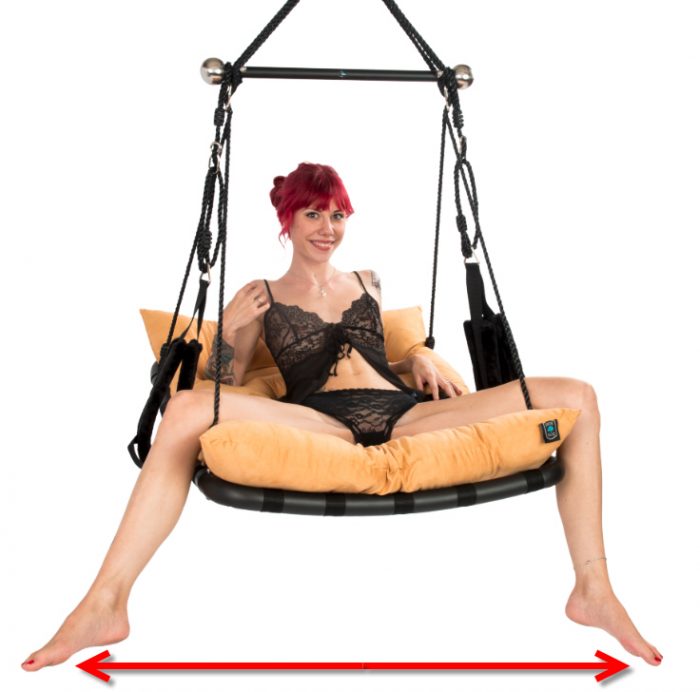 Here are the dimensions of the "Private Euphoria":
Tip: even though in this case you can't really use it as a piece of furniture or leave it hanging, you don't have to forego having fun with the "Private Euphoria" even when space is tight: you can simply hang it over the bed.
After that, the "Private Euphoria" can simply be stored under the bed, for which we have a stylish and extremely practical storage bag for you:
Storage bag for the sexswing "Private Euphoria".
For which ceiling height is the "Private Euphoria" suitable?
Maximum ceiling height
With the special rope which is enclosed, it can be hung up to a ceiling height of 2.70 meters easily and without the need to struggle with knots. For higher ceilings, we can prepare and enclose a longer rope for you on request.
Minimum ceiling height
This of course depends on your height, but if the ceiling is lower than about 2.10 to 2.20 meters, the partner standing in front of the swing may have to slightly bend their knees (which, considering the fun, might be a reasonable sacrifice to make and is also good leg muscle training).
Help, I can't drill into the ceiling – is there another solution to hang my sex swing?
We would prefer a ceiling mounting in any case (can also serve as a suspension for a plant or be camouflaged with a smoke detector housing). But if it is not possible to mount it on the ceiling at all, we have good news for you: You don't have to live without your love swing now, nor do you have to put on such a bulky and expensive metal frame.
Finally now we have found a clever solution that we can recommend: the wall stand.
Do I need this solid ceiling mount with four screws?
Can "man" stay longer in a sex swing?
That's really true! Find out more about this amazing and very useful effect here: "You can do it longer!"
Is the G-spot particularly stimulated in a sex swing?
Yes, indeed it is. Especially for women who do not reach orgasm "at the push of a button", a comfortable love swing such as the Private Euphoria is ideal. Not only because she can relax completely in it, but also because the G-spot is not only touched by the resulting angles as, for example, in the missionary position, but is directly stimulated.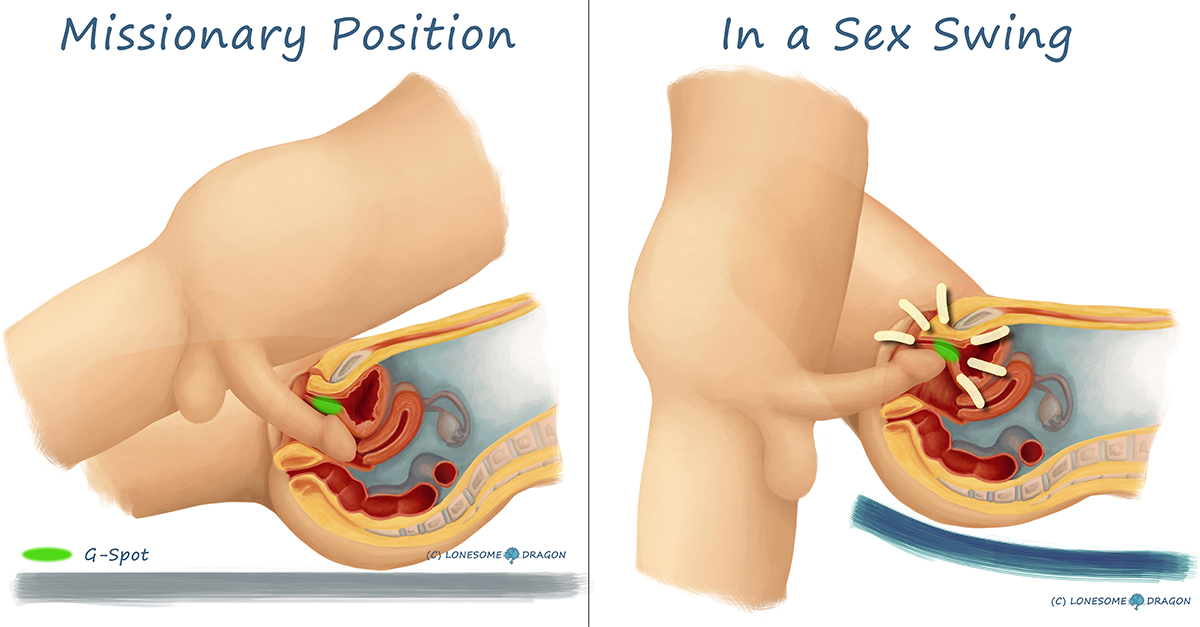 In the love swing the G spot is stimulated directly, while in conventional positions it is only touched.
The blog post "The G-spot as the main actor in the love swing" will discuss this great effect in more detail.
Safety
Of course, love swings are actually something completely harmless. Nevertheless you are at a certain distance from the safe ground. A fall can have really serious consequences, especially since in the event of an accident you might hit the hard ground with your back or head.
For this reason, it goes without saying that the fastening to the ceiling (or a beam, etc.) has been carried out properly and that the material (ceiling) is suitably load-bearing.
Nevertheless, before each use it must be checked briefly whether the ceiling attachment is not loose, whether no connections (e.g. screws on the frame of the love swing) have come loose and whether there is no damage to the material. The spring and the rope must also be checked accordingly.
While models like "Private Euphoria" are very safe, you have to hold on to a classic love swing. Therefore such models may only be used in good physical condition.
As I said, it's "just a swing", but most accidents actually happen in the household….
General tips
Depending on the model, you will find hints and tips in the manual for your sex swing for maximum joy and pleasure.
But we are also happy to advise you if you would like to know more about it in advance.
CARE OF YOUR SEX SWING
Cleaning and care
The classic love swings are cleaned with a damp cloth, with a sponge or also by rinsing under the shower.
The "Private Euphoria" model from LONESOME DRAGON can also be rinsed off in the shower, just like the quilted giant support cushion pad.
The giant support cushion pad can even be washed in the washing machine (or bathtub) at up to 95° (!). Tumble drying is possible, but not necessary, as the microfibres do not soak up water.
But don't be alarmed: the support cushion pad is really very large and well filled. Therefore you need a big washing machine. Otherwise it can be cleaned in the bathtub without any problems.
For cleaning and care of the upholstery of the "Black & White Euphoria" please see here (select tab "Care"): Black & White Euphoria
VARIOUS
Affiliate Program
You have the opportunity to mention us in your blog or on social media? That's great! Because you not only enable other people to experience a very special love swing from LONESOME DRAGON, but can even earn money permanently! We are happy to accept you as a partner in our affiliate program. Please contact us – we look forward to it!